WASHINGTON, D.C., Sept. 20
–Construction backlog for large contractors reached a new peak of 14.06 months during the second quarter of 2016, according to the Associated Builders and Contractors (ABC) Construction Backlog Indicator (CBI) released today. The new high for companies with annual revenue above $100 million shattered the previous high of 12.25 months for any revenue segment, which was recorded in the first quarter of 2016 and second quarter of 2013.
Nationally, average backlog fell to 8.5 months during the second quarter, down 1.6 percent from the prior quarter. CBI remained virtually unchanged on a year-over-year basis, signaling that growth in the nation's nonresidential construction industry is slowing.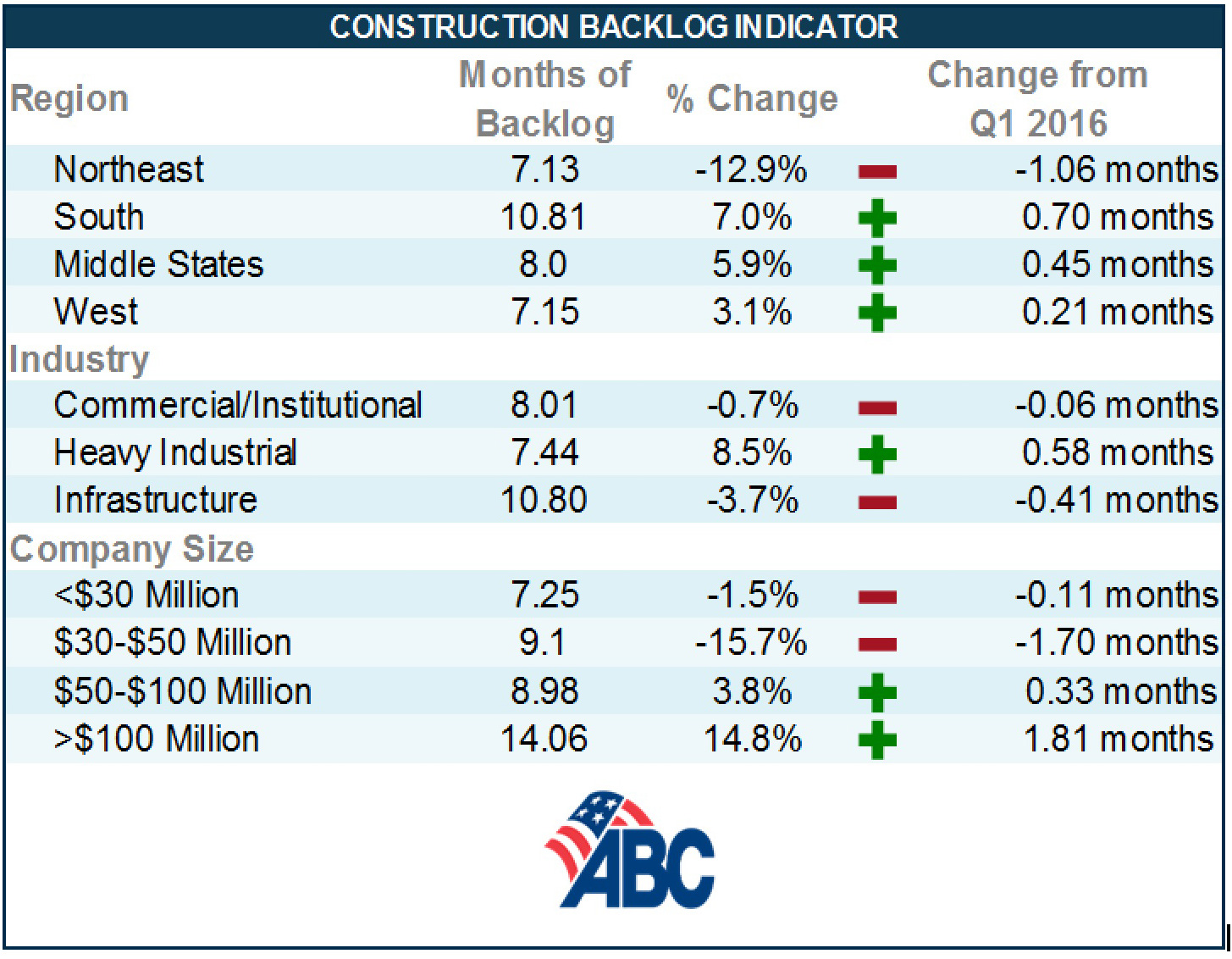 "While a handful of commercial construction segments continue to be associated with expanding volumes, for the most part, the average contractor is no longer getting busier," said ABC Chief Economist Anirban Basu. "While backlog is hardly collapsing, the period of growing in nonresidential construction spending appears to be ending. In fact, nonresidential construction spending data indicate that growth has been slowing for a number of months, something that prior weak CBI readings suggested would occur.
"During the early stages of the nonresidential construction recovery, larger contractors were disproportionately gathering market share," said Basu. "This was occurring for a number of reasons. For instance, stimulus-related spending generally favored large contractors tied to infrastructure build-out. Larger contractors are also more likely to maintain solid banking and insurance relationships even during times of economic and financial stress, thereby allowing them to productively compete for more projects.
"As the nonresidential construction recovery broadened, smaller contractors began to experience a rise in backlog," said Basu. "However, recent data indicate that once again larger contractors are gaining market share. Small firm backlog has begun to decline.
"There are a number of potential explanatory factors regarding the lack of growth in backlog, the most obvious of which is the continued slow growth of the economy," said Basu. "Financial regulators have begun to express growing concern regarding possible bubbles forming in certain real estate segments in certain cities, which may have rendered the developer financing environment somewhat more challenging. A slowdown in business investment, including in energy-related sectors, has undoubtedly also played a role."
See Charts and Graphs
Regional Readings
Despite an overall decline in national average backlog, three regions were associated with rising backlog during the second quarter. Only the Northeast reported a decline in backlog, which at 7.1 months is back to levels not seen since 2011 and 2012. Many of the major Northeast markets, including New York, Boston and Washington, D.C., have experienced significant commercial development over the course of the recovery. The pace of activity appears to have slowed a bit in these markets, perhaps because of rising concerns regarding market saturation in office space and other segments.
Regional Highlights
Contractors in the South have reported average backlog in excess of 10 months for fourth consecutive quarters. Backlog in the South has never been higher than it has been over the past year, with significant activity reported in several South Carolina, Georgia and Florida markets.
Backlog in the West expanded during the second quarter, with contractors in Seattle, Portland, Boise and in a number of California markets reporting still expanding backlog. Many contractors report both more private and public contracting as local governments scramble to accommodate rapidly expanding populations.
Backlog in the Middle States hit the eight-month threshold, the highest level recorded in the history of the series. The expansion of the U.S. auto sector appears to be disproportionately responsible.
See Charts and Graphs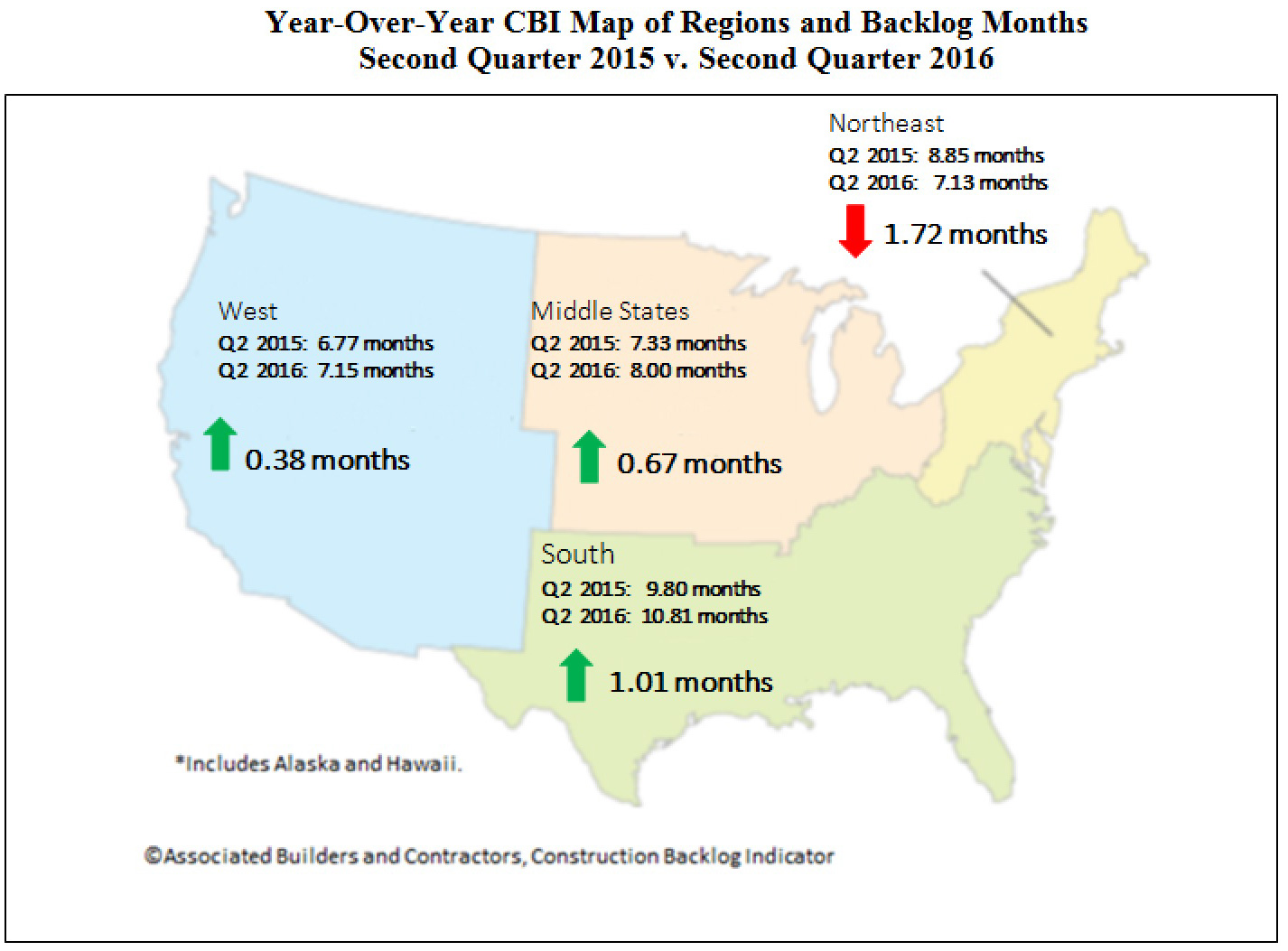 Sector Breakdown
Average backlog in the commercial and institutional category has remained between eight and nine months for 16 consecutive quarters. The implication is that construction spending in the category has remained at a high and stable level for quite some time and that is slated to continue.
Nonresidential construction data indicate that segments like office and lodging have been at the vanguard of construction spending growth over the past year. ABC's backlog indicator suggests that significant spending growth in these categories is unlikely going forward, though there is also little indication of a meaningful decline in spending over the near-term. Health care-related construction remains a source of spending stability.
Sector Highlights
Average backlog in the heavy industrial category rose to 7.4 months during the second quarter, the highest level on record. The U.S. auto industry appears to be largely responsible, with contractors in Mississippi, Tennessee, Indiana and other significant auto supply markets reporting stable to rising backlog levels.
Backlog in the infrastructure category declined for a second consecutive quarter during the second quarter, but remains well above 10 months. Only on two occasions have infrastructure contractors reported higher backlog. However, the impact of the passage of a federal highway bill last year has been generally less than anticipated.
See Charts and Graphs

Company Size Trends
Backlog at the nation's largest contractors soared to the highest level on record, bolstered by large industrial projects. Backlog in all other firm size categories declined on a year-over-year basis, however, with the $30-$50 million category experiencing the largest quarterly decline.
Highlights by Company Size
Backlog for firms with revenue less than $30 million—the smallest delineation—declined by 0.1 months in the second quarter and has now fallen during five of the previous seven quarters. These firms are among the most likely to be limited by skilled labor shortfalls, which prevent them from effectively bidding on larger projects, thereby setting the stage for gradual declines in backlog.
A softening of backlog in the northeast helps to explain the year-over-year decline in backlog among firms in the $30-$100 million annual revenue category.
Large industrial projects represent a primarily explanatory factor behind the surge in backlog among the largest construction firms. Large-scale industrial projects have been reported in Texas, Louisiana and other markets, setting the stage for stable to rising construction investment in those markets. Over the past two years, construction volumes have been falling in a number of Texas and Louisiana markets, likely attributable to diminished oil and natural gas prices.
See Charts and Graphs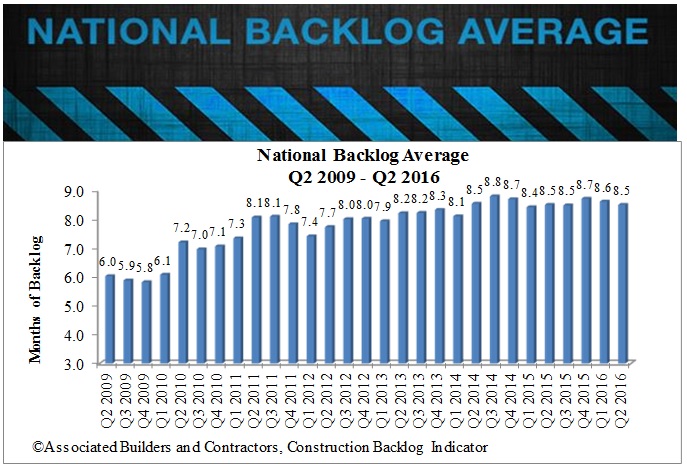 Note: The reference months for the Construction Backlog Indicator and Construction Confidence Index data series were revised on May 12, 2020. All previously reported quarters and months shifted forward by one period to better reflect the timing of when the surveys were conducted.