Nonresidential Construction Backlog
Slides in Icy First Quarter

Harsh winter weather helped produce a 2.8 percent decline in Associated Builders and Contractors' (ABC) Construction Backlog Indicator (CBI) during 2014's first quarter. The weather also impacted construction starts, architectural billings and many other construction-related metrics. Overall CBI now stands at 8.1 months—down from the 8.3 months in the previous quarter, but up from 7.9 months a year ago.

"Despite a decline in overall backlog, only one of three industry segments, commercial/institutional, saw a decrease in backlog during the first quarter," said ABC Chief Economist Anirban Basu. "Retailers and other commercial actors have been seeking to build cash reserves rather than to expand operational capacity, which helps explain the decline. However, second quarter business spending appears to be on the rise. Many companies are flush with cash and small business confidence is improving, which means commercial backlog is expected to expand during 2014's second quarter and likely beyond.

"Regionally, the West, which features many of the states hardest hit by recession, including Arizona, California and Nevada, was the only region to experience expanding backlog," said Basu. "The South, which includes rapidly growing states like Texas and Florida, continues to post the lengthiest average backlog, while the Middle States region, which includes communities with highly constrained public budgets like Chicago and Detroit, has the shortest construction backlog.

"Firms in three of the four size categories experienced an increase in average contractor backlog," said Basu. "Larger firms, which generally have the greatest access to capital and therefore are more likely to be able to take on projects, continue to enjoy the lengthiest backlog. Backlog among smaller firms is roughly where it was at the end of 2011, leading many of those firms to offer bids with low profit margins in an attempt to line up additional work.

"Nonresidential construction economic indicators have not been particularly strong thus far in 2014," said Basu. "After rising only sporadically in 2013, overall nonresidential construction spending fell for the fourth consecutive month in March. However, the first quarter's bitter weather likely pushed additional construction into subsequent periods, suggesting that construction spending and CBI are poised to expand during ensuing quarters."
CBI Map of Regions and Backlog Months Fourth Quarter 2013 v. Fourth Quarter 2014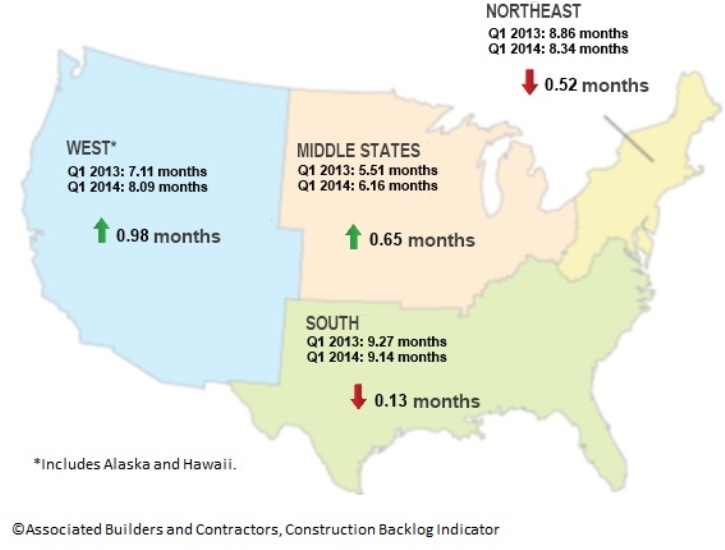 Regional Highlights
Average backlog declined in three of four regions during the first quarter.
While the South experienced the sharpest downturn in backlog, it also continues to boast the lengthiest backlog of all four major regions.
The West posted the largest gain in average contractor backlog on both a quarterly and year-over-year basis largely because California, Arizona, Nevada, Washington state and Oregon are among the most rapidly recovering states.
Industry Highlights
Despite a decline in overall backlog, only one of three industry segments, commercial/institutional, saw a decrease in backlog during the first quarter.
Backlog in the infrastructure segment ended a three-quarter losing streak and is now approaching 8 months.
Although backlog in the heavy industrial segment is rising, the reading for this segment remains the lowest of the three segments; however, manufacturing capacity utilization has been rising recently, implying that heavy industrial backlog is likely to expand more rapidly during the next several quarters.
Highlights by Company Size
Larger firms with annual revenues above $100 million continue to report the lengthiest backlog at 11.7 months–the second largest reading this category has seen.
Firms with $50 million to $100 million in annual revenue are the second most successful in terms of contracted work, with backlog at 10.69 months, although their average backlog is down from 11.52 months last quarter.
Smaller firms experienced a half-month decline in backlog during the first quarter but still enjoy a higher backlog than a year ago at 7.16 months.
See charts and graphs ​
CBI is a leading indicator measured in months that reflects the amount of construction work under contract, but not yet completed. A lengthening backlog implies expanding demand for construction services. To read more about the latest CBI, click
here
.
Note: The reference months for the Construction Backlog Indicator and Construction Confidence Index data series were revised on May 12, 2020. All previously reported quarters and months shifted forward by one period to better reflect the timing of when the surveys were conducted.