Contact: Gerry Fritz, (703) 812-2062
Ashley Currie, (312) 396-9763


For Immediate Release

August 12, 2013
ARLINGTON, VA.
– Associated Builders and Contractors (ABC) today reports its Construction Backlog Indicator (CBI) rose 3.9 percent during the second quarter of 2013 and now stands at 8.2 months, up from 7.9 months the previous quarter. Construction backlog is up 6.6 percent compared to the same time last year. CBI reflects the amount of commercial and industrial construction work under contract, but not yet completed.
"For several quarters, various surveys on nonresidential construction firms operating across the United States have indicated a growing sense of confidence regarding the near-term outlook," said Associated Builders and Contractors Chief Economist Anirban Basu. "Now we know why: They're getting busier.
"While nonresidential construction's recovery can still be characterized as sporadic and highly constrained, there are a number of supporting macroeconomic developments," said Basu. "The pace of job creation has accelerated in recent months, U.S. financial markets have generated lofty returns, and both anecdotal and quantitative data indicate project financing has become somewhat easier to obtain.
"However, this does not suggest that recovery of the nation's construction industry has suddenly become assured," Basu said. "Even as certain economic factors indicate promise—such as solid consumer spending, a meaningful rebound in housing activity and rising energy production—the U.S. economy is on pace to expand less than 2 percent this year, which is still insufficient to foment the type of aggressive, broad-based nonresidential construction cycle for which many contractors have been waiting.
"Through the first half of this year, U.S. nonresidential construction spending was roughly flat," said Basu. "Performance should improve during the latter half of the year, but the CBI seems to be indicating that revenue opportunities are set to expand more forcefully in 2014."
Regional Highlights
The Northeast, South and the West all experienced construction backlog expansion.
The Middle States, includes slow-growth states such as Illinois and Wisconsin, continues to have the shortest average backlog at 6.3 months.
The Northeast, which includes rapidly recovering regional economies like New York and Boston, has experienced rising backlog for five consecutive quarters and now boasts the lengthiest backlog of any region.
CBI Map of Regions and Backlog Months: Q2 2012 v. Q2 2013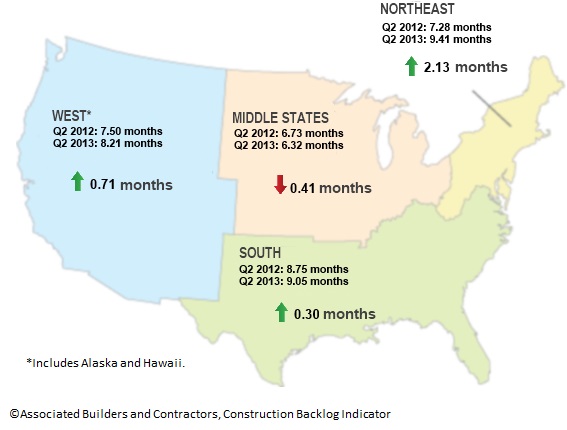 Regional Analysis
"Perhaps the biggest surprise in the data is that backlog in the South has not increased more aggressively," said Basu. "Most macroeconomic data indicate the South and the West are the fastest expanding regions of the United States, which would seem to suggest a higher backlog.
"However, anecdotal and other evidence indicate that a lack of available skilled labor may be slowing down construction progress, particularly in areas of the nation associated with oil and natural gas production," Basu said. "These constraints are less impactful in the Northeast, where there has been less stimulus from the nation's energy production renaissance.
"What is not surprising is the generally slow progress observed in the Middle States," said Basu. "Many state governments in this region of the nation are facing particularly large fiscal challenges, and the fiscal conditions of Detroit and Chicago have been featured heavily in the news of late. That said, there will be times in the future when the Middle States become more active than much of the balance of the nation as energy production expands in the Utica Shale region," Basu stated.
Industry Highlights
Industry-specific data reflect the contrast in nonresidential construction spending patterns, with privately financed segments generally outperforming publicly financed segments.
Construction backlog in the infrastructure segment has declined for two consecutive quarters and is more than 1 month below last year's second quarter level.
While construction backlog expanded in the heavy industrial segment during the second quarter, the most sustained progress has been observed in the commercial and institutional category, which is most directly aligned with household spending.
Industry Analysis
"The CBI and many other economic indicators reflect the fact that the U.S. recovery continues to remain heavily dependent upon consumer borrowing and spending," said Basu. "At the forefront of the recovery has been housing and auto markets, which are both closely associated with consumer financing.
"Progress in private investment categories has been more sporadic, including the heavy industrial category, which has tended to recover in only fits and starts in recent quarters, due in part to an unexpected level of global economic weakness," said Basu. However, it's likely that progress in heavy industry should accelerate going forward.
"With sequestration ongoing, prospects for significant progress in the infrastructure category remain highly suppressed," Basu said. "As if headwinds emerging from the federal government were not enough, Detroit's bankruptcy is likely to induce more cautious behavior with respect to capital budgeting at state and local government levels, which will further impact the outlook for infrastructure investment in the United State."
Highlights by Company Size
Larger firms continue to capture market share. Backlog among surveyed contractors associated with more than $100 million in annual revenues is now approaching 12.3 months, which represents roughly a 50 percent increase in backlog since late 2009.
Firms with less than $30 million in revenue, a group heavily comprised of subcontractors that specialize in a handful of disciplines, also rose in the second quarter, but remains proximate to year-ago levels.
The group exhibiting the least momentum are contractors with between $30 million and $50 million in annual revenues. These firms are often competing directly with larger contractors with a greater ability to develop and retain talent, as well as solidify key banking and insurance relationships.
Company Size Analysis
"Today's competition is being waged along many dimensions that favor large contractors, including resources available to comply with government regulations and an ability to attract talent entering the construction industry," said Basu. "These firms not only have the capacity to take on the largest projects, but also to embrace the latest productive and expensive technologies.
"In the past, we've often associated market responsiveness with smaller firms because their organizational structure allows them to make decisions more quickly," Basu said. "Today, larger firms are organizationally leaner, which positions them to reduce costs and speed up decision-making—and ultimately makes them more competitive against smaller firms."
To read more about the latest CBI, click
here
.
---
Associated Builders and Contractors (ABC) is a national trade association representing 22,000 members from more than 19,000 construction and industry-related firms. Founded on the merit shop philosophy, ABC and its 72 chapters help members develop people, win work and deliver that work safely, ethically, profitably and for the betterment of the communities in which ABC and its members work. Visit us at
www.abc.org
.