Contact: Gerry Fritz, (703) 812-2062
Marcie Kohenak, (202) 965-7811

For Immediate Release

May 21, 2013
Associated Builders and Contractors (ABC) today reports its Construction Backlog Indicator (CBI) declined 1.1 percent during the first quarter of 2013 and now stands at 7.9 months. Despite the quarterly decline, CBI is still 7 percent higher compared to one year ago. CBI is measured in months and reflects the amount of commercial and industrial construction work under contract, but not yet completed.
"As with the broader economic recovery, the rebound of the nation's nonresidential construction industry remains sporadic and stymied by a myriad factors, including tight credit, heightened caution among private developers and public policymakers, and a still struggling global economy," stated ABC Chief Economist Anirban Basu.
"Because a growing number of projects are now in various stages of planning, the expectation is that backlog will expand moderately later in 2013, but construction volumes will be roughly flat for the balance of the year," Basu said.
"Certain nonresidential construction segments, such as energy generation, infrastructure, retail and lodging, appear to be doing well," remarked Basu. "But, this activity alone is not enough to counter the poor performance of other construction sectors, and is unable to expand rapidly in the absence of a dynamic economic recovery."
Regional Highlights
The Northeast region experienced the most significant increase in construction backlog during the first quarter of 2013, rising to 8.9 months.
Construction backlog in both the Middle States and the West declined for the past two quarters. Backlog in the Middle States, which include slow growth states such as Illinois and Wisconsin, is down to 5.5 months, the lowest level in three years.
he South, which includes rapidly expanding states such as Texas, Louisiana, Florida, Oklahoma and Georgia, continues to boast the lengthiest construction backlog at 9.3 months, the highest level in more than a year.
CBI MAP OF REGIONS AND BACKLOG MONTHS: Q1 2012 V. Q1 2013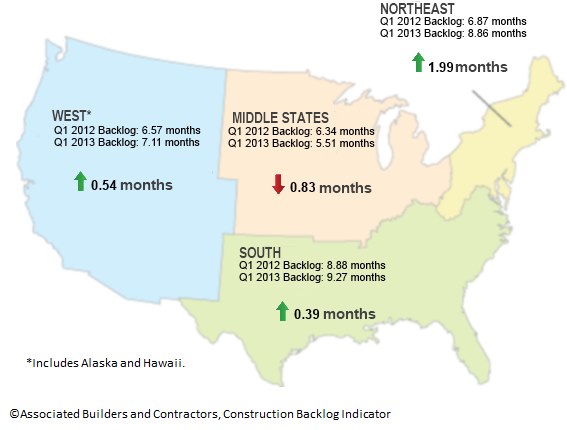 Analysis
"Thanks in part to a number of large infrastructure projects, construction backlog in the West expanded rapidly between the fourth quarter of 2011 and the third quarter of 2012," stated Basu. "Since that time, construction activity has waned, with average backlog in the West returning 2011 levels.
"Despite rapid job growth in Arizona, California and Washington, construction spending growth remains constrained, likely due to still high vacancy rates in many commercial real estate categories," Basu remarked. "In contrast, the South continues to progress. Major industrial projects have recently broken ground or been announced in Alabama, Georgia, Texas and elsewhere in the region. The energy sector also has continued to support contractors in Louisiana, Texas and Oklahoma.
"The recovery of financial markets and job growth in the financial services sector is helping the Northeast move ahead," stated Basu. "The Northeast's major cities—New York, Boston, Philadelphia, Baltimore and Washington D.C.—can all lay claim to a significant presence of financial services firms.
"Despite the incredible economic momentum in North and South Dakota from shale oil production, recovery in the Middle States remains stymied by stubbornly high unemployment and slowly recovering commercial real estate markets," added Basu.
Industry Highlights
Heavy industrial sector construction backlog fell from 6.2 months in the fourth quarter of 2012 to 5.7 months in the first quarter 2013.
Construction backlog expansion in the commercial and institutional sectors has been consistent and gradual since the first quarter of 2012 and now stands at 8.2 months.
Despite a quarterly decline during the first quarter of 2013 from 9.8 months to 9.7 months, infrastructure continues to be associated with the lengthiest construction backlog among all three industry segments. Infrastructure backlog remains a full month higher compared to the same time one year ago.
Analysis
"Because the nation did not fall off of its fiscal cliff, infrastructure-related backlog remains relatively stable," said Basu. "However, highly constrained state and local government budgets continue to frustrate substantial improvement in this segment. This is also the segment that will benefit the most from efforts to expand public-private partnerships.
Thanks in part to gradually declining office vacancy rates in much of the nation and rising hotel occupancy rates, commercial and institutional construction backlog continue to expand," stated Basu.
"Perhaps the most disappointing segment has been the heavy industrial category," Basu remarked. "Factory output has actually been declining recently, implying that substantial backlog improvement in the heavy industry category is unlikely to occur any time soon. It also does not help that the global economy remains so weak, which, among other things, limits export growth and negatively impacts the demand for factory-sector related projects."
Highlights by Company Size
Firms with $100 million or more in annual revenues experienced an increase in construction backlog during the first quarter from 10.8 months to 11.2 months. Backlog among this group has never been longer in the history of CBI.
In contrast, companies with annual revenues below $30 million experienced a decline in construction backlog during the first quarter. The same held true for firms with revenues between $30 million and $50 million.
Companies with annual revenues between $50 million and $100 million had an average construction backlog of 10.5 months, the lengthiest backlog every recorded for this group.
Analysis
"Two quarters ago, construction backlog rose in all company size categories," said Basu. "But since that time, the nation's nonresidential construction recovery has become even more hesitant, resulting in a tapestry of progress and backsliding.
"In general, larger firms enjoy the most solid banking and insurance relationships and are often able to leverage those relationships into comparative advantage," Basu remarked. "This seems to be happening now as larger general and subcontractors have widened their advantage over their smaller competitors during the past quarter."
To read more about the latest CBI, click
here
.
---
Associated Builders and Contractors (ABC) is a national trade association representing 22,000 members from more than 19,000 construction and industry-related firms. Founded on the merit shop philosophy, ABC and its 72 chapters help members win work and deliver that work safely, ethically and profitably for the betterment of the communities in which they work. Visit us at
www.abc.org
.
Note: The reference months for the Construction Backlog Indicator and Construction Confidence Index data series were revised on May 12, 2020. All previously reported quarters and months shifted forward by one period to better reflect the timing of when the surveys were conducted.