Contact: Jeff Leieritz, (202) 905-2104


[email protected]




For Immediate Release

April 2, 2015
Washington, D.C. -
Associated Builders and Contractors (ABC) Construction Confidence Index (CCI) survey showed a continuing rise in optimism among construction contractors in the second half of 2014. CCI reflects forward-looking construction industry prospects using three measured categories. In the second half of 2014, expectations for profit margin and staffing levels increased, while sales expectations fell.
During the second half of 2014:
Sales expectations fell from 68.2 to 67.3;
Profit margin expectations rose from 60.3 to 61.0;
Staffing level intentions advanced from 65.0 to 66.3, indicating an acceleration in hiring moving forward.
Looking ahead, more than 70 percent of nonresidential construction firms expect revenue gains during the next year, while approximately one in 10 expects to experience falling sales. Sales expectations dipped a bit from the previous survey, and expectations regarding profits margins improved. More than 53 percent of firms expect improving profits margins and fewer than 13 percent expect thinner margins. It is likely that those expecting thinner margins are factoring in increased construction labor costs.
That is consistent with expectations for construction staffing levels, with nearly two-thirds of surveyed nonresidential contractors stating that they expected to add to staffing levels in 2015, compared with just 7.3 percent expecting to trim staffing levels.
Nonresidential Construction Confidence Up for Past 24 Months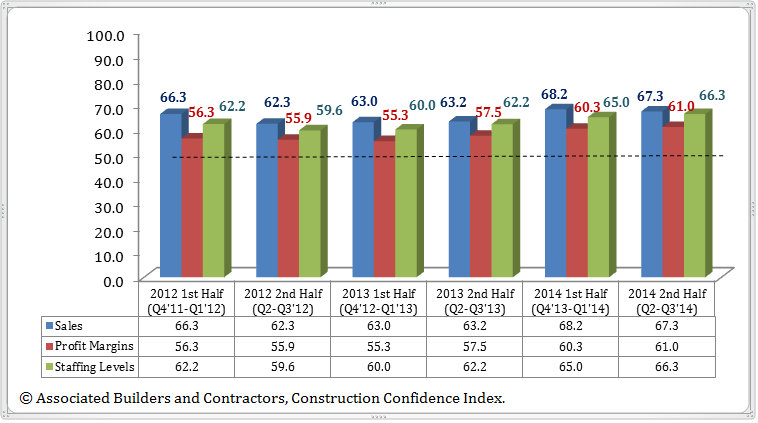 "Contractors are now exhibiting a level of confidence in their collective near-term future that has not been observed since the recession began in late-2007," said ABC Chief Economist Anirban Basu. "Construction was the industry hardest hit by the global financial crisis and accompanying economic downturn. No major sector of the economy lost as high a fraction of jobs. Firm failure rates reached epic levels. Even after more than five and a half years of national economic recovery, most indicators of nonresidential construction spending have yet to return to prerecession levels, including aggregate spending.
"Of particular note is the expectation that profit margins are set to rise for many contractors," said Basu. "Most industry stakeholders take for granted the notion that construction labor costs will rise on a per hour basis in 2015. The increased confidence among contractors appears to demonstrate that the marketplace will be strong enough to allow for profit margins to grow despite increased labor costs.
"Naturally, there is always some source of concern," continued Basu. "Much of today's concern relates to still weak and erratic public construction spending. There is much less concern regarding private construction, however, including in segments that are tied to consumer spending such as commercial, lodging-related, and amusement-related construction. The overall message is that contractors will be busier, more profitable, and support more people in 2015. The question is whether the industry confidence will continue to build as we approach 2016. Continued growth will depend upon a variety of factors, including public policies regarding infrastructure spending, interest rates, materials prices and the performance of capital markets.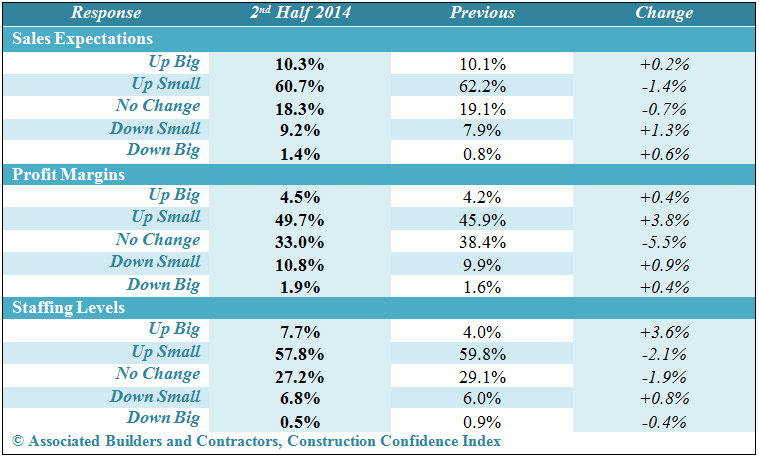 *CCI is a diffusion index. Readings above 50 indicate growth, while readings below 50 are unfavorable. The following chart reflects the distribution of responses to ABC's most recent surveys.
Note: The reference months for the Construction Backlog Indicator and Construction Confidence Index data series were revised on May 12, 2020. All previously reported quarters and months shifted forward by one period to better reflect the timing of when the surveys were conducted.