The U.S. construction industry only gained 6,000 jobs in May, according to the June 6 employment report by the U.S. Department of Labor (DOL). Nonresidential construction segments lost 500 jobs in May, a surprising departure from the 12,600 jobs (revised) added in April. The residential sector performed slightly better, adding 3,300 jobs for the month. The heavy and civil engineering sector added 3,200 jobs in May and has added an impressive 32,600 jobs in the past 12 months.
"Coming into today's release, the nonresidential construction industry was expected to have added jobs in May; instead, 500 jobs were lost," said Associated Builders and Contractors Chief Economist Anirban Basu. "While the nation added almost precisely the number of jobs collectively anticipated by economists, the jobs lost in the nonresidential construction segments, including 400 jobs among specialty trade contractors, came as a surprise.
"Today's disappointing jobs report follows months of tepid growth in construction spending," said Basu. "Public construction expenditures remain incredibly constrained and private nonresidential construction spending declined in April, a reflection of an economy that actually shrank during the year's initial months."
The national construction unemployment rate fell to 8.6 percent on a non-seasonally adjusted basis in May. "The fact that the construction unemployment rate fell despite the segment adding only 6,000 jobs may be an indication of the skilled labor shortage; however, expect the rate to stay more or less unchanged over the coming months," said Basu.
According to the Bureau of Labor Statistics' household survey, the national unemployment rate remained unchanged at 6.3 percent in May, remaining at its lowest level since September 2008. The civilian labor force expanded by 192,000 people in May, though it still has 614,000 fewer people than in May 2014.
Nonresidential building construction employment fell by 100 jobs for the month, but is up by 19,600 jobs (2.9 percent) since May 2013.
Residential building construction employment rose by 100 jobs in May and is up by 47,000 jobs (7.7 percent) on an annual basis.
Nonresidential specialty trade contractors lost 400 jobs for the month, but employment in that category is up by 29.8 jobs (1.4 percent) compared to the same time last year.
Residential specialty trade contractors gained 3,200 jobs in May and have added 58,600 jobs (3.8 percent) since May 2013.
The heavy and civil engineering construction segment gained 3,200 jobs in May and job totals are up by 32,600 (3.7 percent) on a year-over-year basis.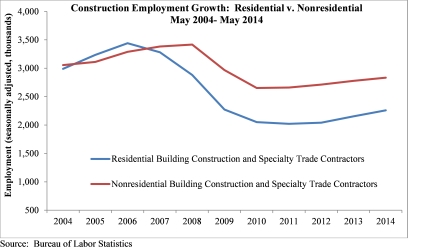 To read last month's employment report Construction Economics Update click
here
.