By Bernard M. Markstein
Overview
March, as is to be expected, provided better weather than February, though some parts of the country were hit with severe storms, including spring snow storms. This resulted in a monthly decrease in the March not seasonally adjusted (NSA) construction unemployment rate for the country and in the estimated construction unemployment rates for 43 states.
Although the monthly movement in the NSA construction unemployment rates provides the expected positive news for construction, it is more instructive to compare the year-over-year movements in the construction unemployment rates to better judge the health of the construction industry and construction employment. The year-over-year decline in the U.S. unemployment rate in March 2015, and in construction unemployment rates in 41 of the 50 states, along with other construction-related data, indicates that the fortunes of the industry and employment in the industry continue to improve.
To view states ranked by their construction unemployment rate click here
.
To view states ranked by their year-over-year improvement in construction employment click here
.
To view each states' unemployment rate for all industries click here
.
The Top Five States
All of the
top five states
with the lowest March construction unemployment rates remained the same as in February, though the order was different. It should be noted that in the case of two of the five top states—Nebraska and Hawaii—the construction unemployment rate also includes the mining industry.
North Dakota, no doubt due to the decline in oil prices, fell from number one to number two, switching places with Nebraska compared to February. Perhaps more telling is that North Dakota's year-over-year construction unemployment rate rose by 0.7%, an indicator of the effects of the slowdown in oil and gas exploration due to lower energy prices. Despite this slowdown, which spills over to its construction industry and its general economy, North Dakota's energy industry is alive and well. As a result, the state still has both a relatively low construction unemployment rate and a low overall unemployment rate. However, one reason the state's construction unemployment rate remains low is that many of those who lost their jobs have moved to other states and thus they don't show up in North Dakota's unemployment statistics.
Wyoming jumped from number five in February to number three in March. Hawaii, with a combined construction and mining unemployment rate, held at number four between the two months. Hawaii has benefited from improved residential building activity and investment in facilities for tourists. It also benefits from relatively good weather during the winter months, giving it a leg up over many of the other 49 states.
Utah dropped from number three in February to number five in March and was also among the handful of states that saw both its monthly construction unemployment rate increase from February and its year-over-year rate increase. Given Utah's relatively strong economy, the state may well be attracting unemployed construction workers from other states (e.g., from North Dakota) who will, at least temporarily, swell the ranks of the unemployed.
March's top five states ranked from lowest unemployment to highest are:
Nebraska
North Dakota
Wyoming
Hawaii
Utah
To view the top five and bottom five states ranked by construction unemployment rate click here
The Bottom Five States
Among the states with the
five highest construction unemployment rates
in March, four of the five remained the same as in February. Rhode Island and Connecticut retained the unwelcome position of the worst and second worst construction unemployment rates, respectively. Although both states have experienced improvement in their economies, they have relatively high overall unemployment rates and have suffered through a particularly harsh winter. Further, Rhode Island was especially hard hit by the Great Recession and has struggled with its recovery. Nonetheless, both states have experienced healthy declines in their year-over-year construction unemployment rates.
West Virginia held at the third highest construction unemployment rate in March. Although the rate did decline from February, it was significantly higher than in March 2014. The year-over-year increase (+3.2%) was the largest among the nine states that saw an increase compared to last year. Louisiana, with a 2.4% year-over-year increase, was the second highest and the only other state with an increase in excess of 1%.
New Jersey had the fourth highest construction unemployment rate for the second month in a row. Although Illinois had a high construction unemployment rate of 12%, it has seen its relative ranking improve from the second highest rate in January, to the fifth highest in February and now is tied with Alaska for eighth highest rate in March. Illinois had an impressive 4.3% drop in its construction unemployment rate from March 2014—the second largest drop after Michigan's 6.3% reduction.
Georgia, which had the 16th highest (35th lowest) construction unemployment rate in February, moved into the bottom five to fifth highest in March despite the 1.1% decline in its year-over-year rate. Georgia's relative standing may be largely a result of improved weather in many northern states allowing construction to proceed with its usual seasonal rebound in those states rather than a basic change in Georgia's fortunes.
March's bottom five states ranked from highest unemployment rate to lowest are:
Rhode Island
Connecticut
West Virginia
New Jersey
Georgia
To view the top five and bottom five states ranked by construction unemployment rate click here
.
To view regional breakdowns of the construction unemployment rates of each state click here
.
For the methodology behind calculating the unemployment rates and what they measure, see the article Background on State Construction Unemployment Rates.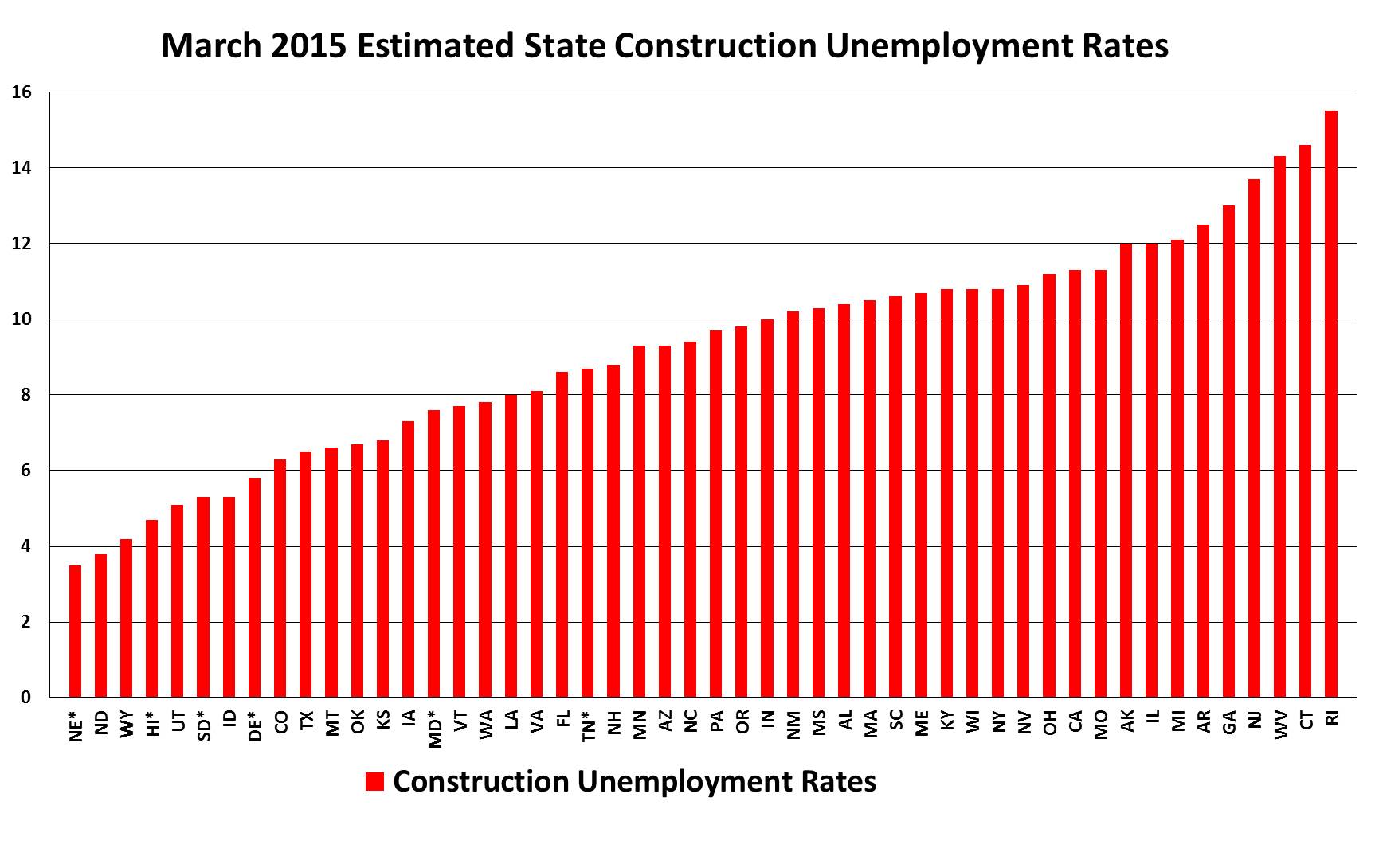 To view February's analysis click
here
.