WASHINGTON, Feb. 20—Confidence among U.S. construction industry leaders held steady in December 2019 after surging in November, according to the Associated Builders and Contractors Construction Confidence Index released today. The average American contractor entered 2020 with confidence: Sales expectations, profit margins and staffing levels all remained above the growth expectations threshold, indicating a strong start to 2020.
Seventy percent of contractors expect their sales to increase over the first half of 2020, while nearly the same percentage of contractors expect to increase their staffing levels. Nearly half of contractors expect their profit margins to increase, while just 12% expect them to decline over the next two quarters.
The CCI for sales expectations decreased from 69.5 to 68.8 in December.
The CCI for profit margin expectations decreased from 61.3 to 60.
The CCI for staffing levels increased from 66.9 to 67.2
"The U.S. economy is humming, and among the principal beneficiaries of that performance are nonresidential contractors," said ABC Chief Economist Anirban Basu. "Sales expectations, despite inching a bit lower in December, remain especially robust, with seven in 10 survey respondents expecting sales increases and fewer than one in 10 expecting their sales to decline during the first half of 2020. Recently released data regarding construction spending and hiring in the U.S. strongly suggest that this confidence is justified. ABC's Construction Backlog Indicator dipped in December but still indicates that contractors remain busy.
"Despite broad optimism regarding sales prospects, contractors' expectations are somewhat more subdued regarding profit margins," said Basu. "Though materials prices have been generally stable and energy prices have declined recently, workers are becoming more expensive, both in terms of wages and benefits. Shortfalls in the skilled trades are apparent throughout the nation, especially in the booming markets of the South and West. With U.S. unemployment hovering near a 50-year low, many construction workers may find opportunities in other segments, including logistics, and retirement rates remain elevated. All of this translates into ongoing increases in compensation costs and a squeeze on margins."
CCI is a diffusion index. Readings above 50 indicate growth, while readings below 50 are unfavorable.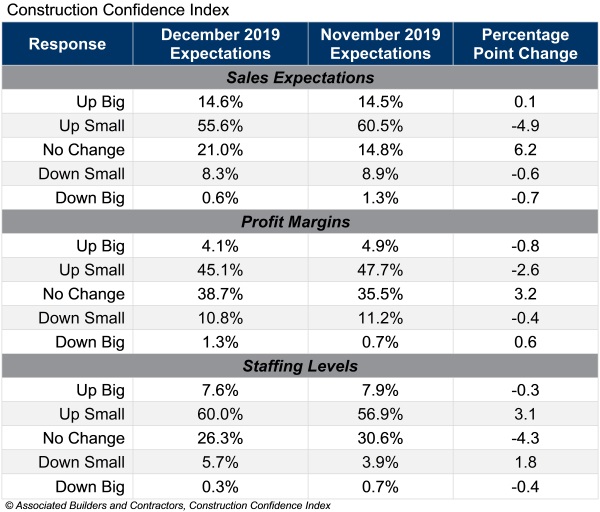 Note: The reference months for the Construction Backlog Indicator and Construction Confidence Index data series were revised on May 12, 2020. All previously reported quarters and months shifted forward by one period to better reflect the timing of when the surveys were conducted.