ABC's Construction Backlog Indicator Down in February
WASHINGTON, April 21—Associated Builders and Contractors reported today that its Construction Backlog Indicator fell to 8.2 months in February, a 7.7% decrease from January's reading. Backlog for firms working in the infrastructure segment rose by 1.3 months in February while backlog for commercial and institutional and heavy industrial firms declined by 0.6 months and 0.7 months, respectively.
"The impact of the pandemic on backlog was immediate," said ABC Chief Economist Anirban Basu. "While financial markets, the National Basketball Association and other elements of American society didn't respond meaningfully to the emerging crisis until early-March, those who consume construction services appear to have begun responding to the crisis in February, resulting in a significant decline in backlog in commercial and industrial segments. Declining backlog was registered in every region of the country with the exception of the Middle States, where social distancing directives were implemented at a slower rate.
"Backlog is likely to decline further," said Basu. "Many economic actors are striving to preserve as much liquidity as possible, inducing them into postponing construction projects or perhaps canceling them altogether. While infrastructure-related backlog expanded in February, this is unlikely to persist, as the crisis has crushed the finances of many state and local governments. These governments will complete their current fiscal year with substantial shortfalls—shortfalls that must be addressed during the next fiscal year absent significant additional financial assistance from the federal government."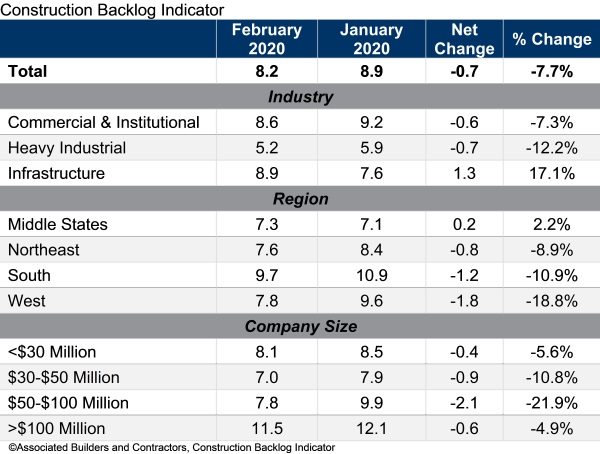 Click here for historical CBI data. CBI methodology can be found here.
Note: The reference months for the Construction Backlog Indicator and Construction Confidence Index data series were revised on May 12, 2020. All previously reported quarters and months shifted forward by one period to better reflect the timing of when the surveys were conducted.