ABC's Construction Backlog Slips in December; Contractor Confidence Continues to Improve
WASHINGTON, Jan. 11—Associated Builders and Contractors reports today that its Construction Backlog Indicator fell to 8.2 months in December, according to an ABC member survey conducted from Dec. 16 to Jan. 4. The reading is down 0.2 months from November 2021, but up 0.9 months from December 2020.
ABC's Construction Confidence Index readings for sales, profit margins and staffing levels increased in December. All three indices stand above the threshold of 50, indicating expectations of growth over the next six months.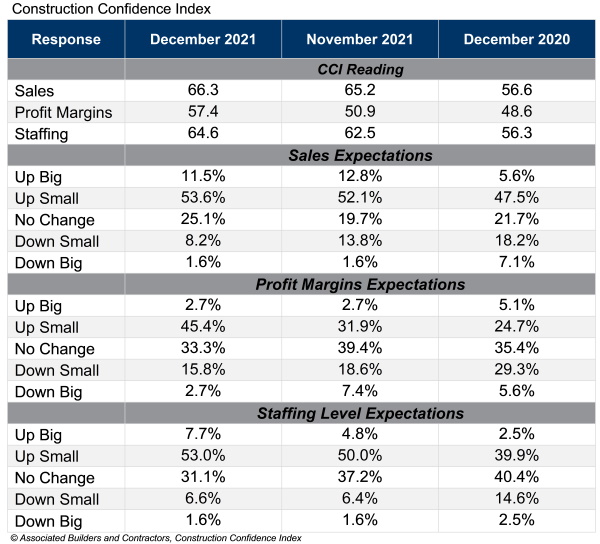 "Demand for construction services in America remains strong," said ABC Chief Economist Anirban Basu. "Contractors have been upbeat about sales and employment prospects for months. What changed in December is that a growing fraction of contractors now believe that profit margins will rise during the next six months despite rising costs due to labor shortages and volatile materials prices.
"Backlog fell in the infrastructure category, but activity in that category is set to heat up in 2022 as federal infrastructure funds tied to the Infrastructure Investment and Jobs Act of 2021 begin to flow," said Basu. "Backlog in the heavy industrial category also declined on a monthly basis, but over the past year backlog in this segment has climbed dramatically as manufacturers attempt to address goods shortages and more CEOs consider bringing some of their supply chains back to America. Industry backlog could be negatively impacted by elevated steel and other materials prices, with some projects cancelled and others redesigned to shift away from intense steel use."
Note: The reference months for the Construction Backlog Indicator and Construction Confidence Index data series were revised on May 12, 2020, to better reflect the survey period. CBI quantifies the previous month's work under contract based on the latest financials available, while CCI measures contractors' outlook for the next six months.