The 2014 Craft Professional of the Year award was presented to Robert Stuart, superintendent at Stronghold Engineering in Menifee, Calif., May 2 during ABC's
National Craft Championships
and
Workforce Development Conference
in Birmingham, Ala. The award recognizes Stuart's work in the industry including his commitment to safety, training and the merit shop philosophy.
Stuart's career began in 1997 when he joined Stronghold Engineering as a part-time shop assistant while still in high school. He has continued with Stronghold ever since, graduating from the ABC electrical apprenticeship program in 2003, receiving his California Journeyman's Electrician license and eventually being promoted to his current position of electrician superintendent, which he has held since 2008.
Stuart has also demonstrated a commitment to helping those around him. In 2011 he was named ABC's
Craft Instructor of the Year
for his devotion to mentoring electrical apprentices at ABC's Southern California Chapter. He is also actively involved in the Apprenticeship 411 program where he conducts training and seminars for more than 200 high school students and their parents and has volunteered as a leader of the Cub Scouts Pack 210 since 2008.
"Robert's commitment to safely and efficiently delivering quality work makes him the perfect choice for our Craft Professional of the Year," said 2014 ABC National Chairman Dan Brodbeck, president and CEO of Compass Partners, LLC, Brentwood, Tenn. "Robert's passion and the pride he takes in his work should serve as an example for craft professionals around the country and we are thrilled to honor him."
As the 2014 Craft Professional of the Year, Stuart received a brand new 2014 Ram Tradesman 1500 Crew Cab truck from the award's exclusive sponsor, Tradesmen International. The truck included custom upgrades donated by ABC business partner the Chrysler Group and the taxes were paid by the Trimmer Construction Education Foundation.
All nominees were evaluated on several criteria, with the top four candidates being chosen as finalists and interviewed during the Workforce Development Conference by a panel of judges. The ABC Craft Professional of the Year winner was selected from those finalists. The three other finalists for the Craft Professional of the Year award were:
Tony Brown
Dilling Group, Inc.
ABC Indiana/Kentucky Chapter
John Kuhn
Manhattan Mechanical Services, LLC,
ABC Illinois Chapter
Binesh Prasad
Keithly Electrical Company
ABC Western Washington Chapter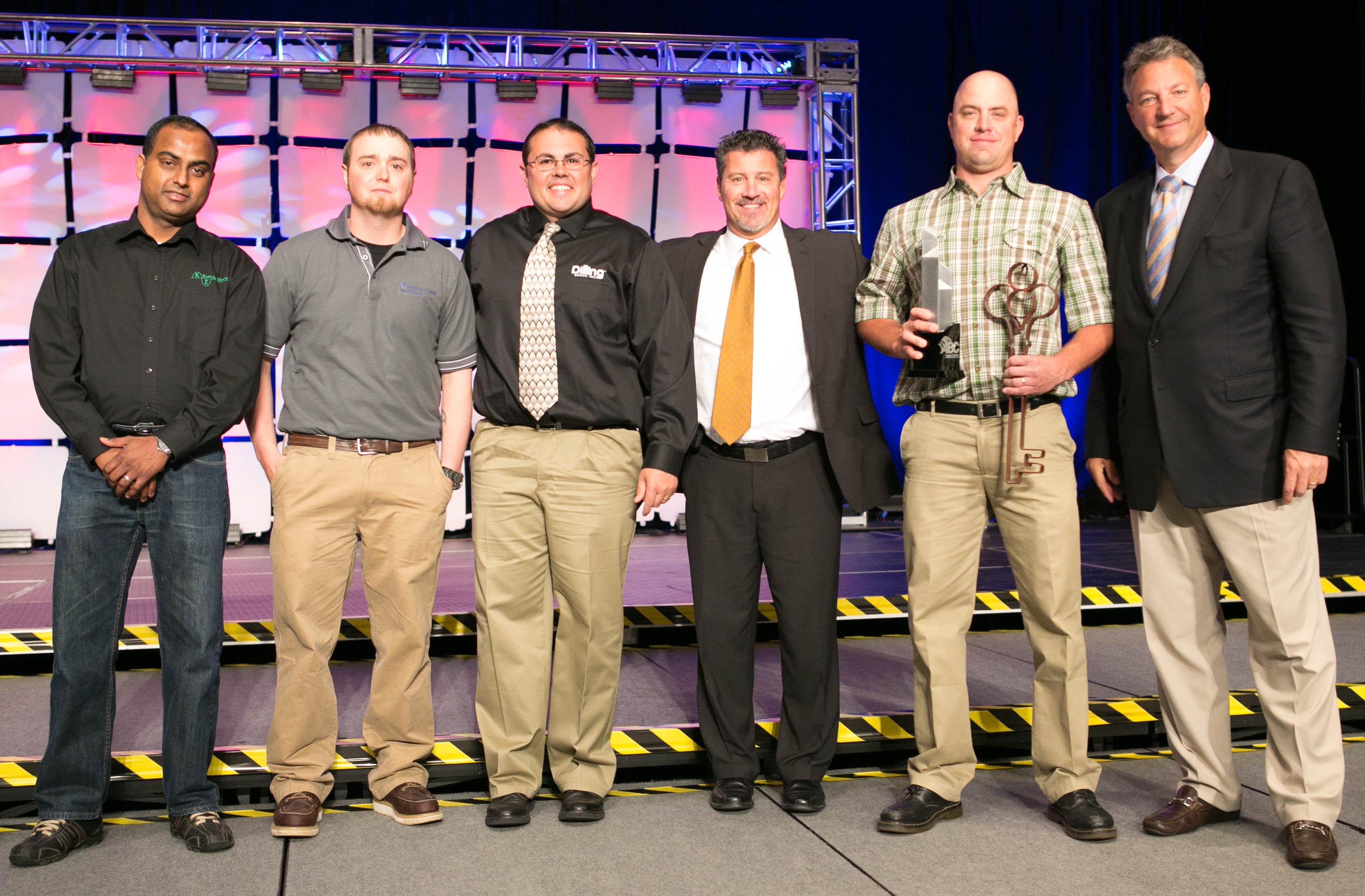 [From left to right] Binesh Prasad, John Kuhn, Tony Brown,
Ed Rojeck of Tradesmen International, Robert Stuart and ABC's CEO, Mike Bellaman.