New GEICO Insurance Program for ABC Members and Their Employees
Great news! If you're an employee of an Associated Builders and Contractors member, you may qualify for an ABC member discount on auto insurance, in addition to GEICO's already low rates. The member discount is available in most states. Already a GEICO customer? Call GEICO and ask a customer service representative if you qualify for an additional discount as a member.

Visit www.GEICO.com/disc/ABC or call 1-800-368-2734 for your free rate quote. Be sure to indicate that you're with "Associated Builders and Contractors".
GEICO can also help you find great rates on homeowners, renters, condo insurance, and more!
If you're in charge of employee benefits, share GEICO with your company's employees. Copy and paste this image, and place on your company's intranet, with a link to www.GEICO.com/disc/ABC.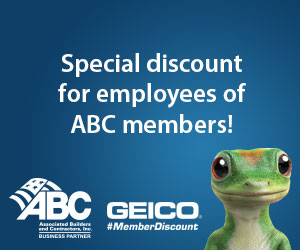 Visit
www.abc.org/discounts
to learn about more great programs for employees and their families.