Construction Industry Faces Highest Tax Burden, According to U.S. Treasury
WASHINGTON, D.C., April 15– Construction shoulders a bigger tax burden than any other industry in the United States with an effective rate over 30 percent, according to a
new report
from the U.S. Department of the Treasury. Associated Builders and Contractors (ABC) responded to the report by urging lawmakers to pass tax reform that would encourage economic growth by lowering rates for both corporate and pass-through businesses.
"Tax Day is a painful reminder to construction companies that they carry a larger tax burden than any other industry," said 2016 ABC National Chair David Chapin, president of Willmar Electric Service, Lincoln, Neb. "While construction has rebounded considerably from the troughs of the recession, our industry is largely reliant on the health of the overall economy, and high tax rates continue to act as a check on growth and investment. Congress must enact comprehensive, meaningful tax reform that will encourage economic growth by lowering effective rates for all businesses regardless of size, sector or tax structure."
According to the
report
, the typical construction company faces an average effective federal tax burden of 30.3 percent, well above the 23.3 percent average for all US businesses.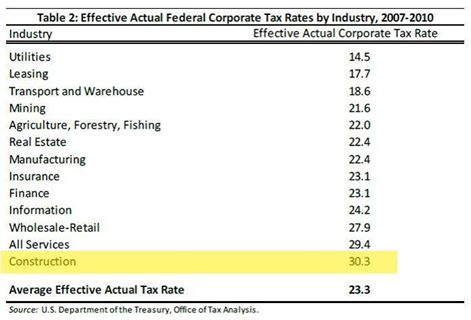 ABC has
long supported efforts
to
lower effective tax rates
for
construction businesses
and bring greater
certainty
and parity to effective tax rates by fighting to ensure that
pass-through entities are included
in tax reform discussions.
###