WASHINGTON, D.C., Dec. 13
– Construction backlog expanded during the third quarter, led by strong growth in the commercial/industrial sector, according to Associated Builders and Contractors' (ABC) Construction Backlog Indicator (CBI), released today. The increase during the third quarter follows two quarters of decline in backlog—the amount of work under contract but yet to be performed—that led to speculation that growth in the country's nonresidential construction industry was slowing.
Overall backlog expanded to 8.7 months, up 2 percent from the second quarter and 2.2 percent (0.2 months) on a year-over-year basis.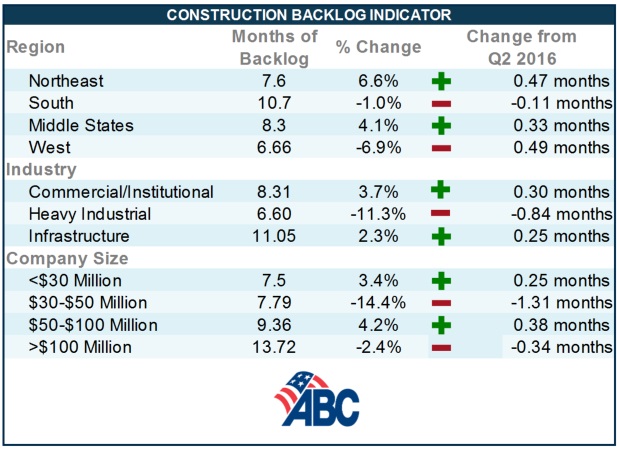 "Despite growing concern that certain commercial segments in a handful of major U.S. cities are on the path to overbuilding, commercial construction backlog improved during the summer of 2016," said ABC Chief Economist Anirban Basu. "The ongoing expansion of spending on healthcare has also helped to expand institutional construction volumes.
"However, exports have been sagging in the context of a disappointing global economic recovery and strong dollar," said Basu. "Business investment in the U.S. has been weak, though there have been more recent indications of improvement. This improvement was not fully apparent in third quarter data, and industrial construction backlog declined during the quarter.
"Perhaps the biggest news is that infrastructure-related backlog is on the rise," said Basu. "Despite the passage of a federal highway bill in 2015 and a growing consensus that America's expanding infrastructure deficits must be aggressively countered, infrastructure spending in America has been in decline for much of 2016. According to U.S. Census Bureau data, over the past year public spending has declined in water and sewer categories, the highway and street segment, public safety and in transportation. The rise in backlog suggests that this negative trend will soon turn positive. The outcome of the most recent presidential and congressional elections renders the outlook for near-term infrastructure spending more promising.
See Charts and Graphs
Regional Readings
Backlog in the Middle States expanded on its previous record high by 4.1 percent during the third quarter after struggling to maintain stability as energy prices plummeted. During the early stages of the recovery, higher energy prices resulted in vast amounts of investment in energy exploration and distribution activities. These activities were disproportionately concentrated in the Middle States. Since mid-2014, energy prices have been in general decline, which resulted in reduced energy investment and a concomitant decline in backlog in certain communities. More recently, energy prices have stabilized, which helps explain the recent upticks in regional backlog.
Regional Highlights
The Middle States collectively posted their highest-ever backlog for a third consecutive quarter. Backlog is nearly two months higher than it was a year ago. A still strong auto sector has helped. Detroit-area backlog remains strong, in part because low energy prices have fueled sales of SUVs and light trucks, many of which are assembled in Michigan.
Backlog in the West declined during the third quarter and is now at its lowest level since the first quarter of 2015. The region has lost more than a month of backlog during the past year, more than any of the other three regions. This is at least partially explained by a slowdown in the pace of construction driven by large technology companies.
Backlog in the South continues to rise and remain at lofty levels, in part because of large-scale construction in cities like Charleston, S.C., Atlanta, Miami and Dallas.

See Charts and Graphs

Industry Breakdown
America's consumer-led economic recovery continues to translate into opportunities for construction firms specializing in office, hotel, distribution center and healthcare segments. Recent data indicate the U.S. manufacturing sector is beginning to regain some of its strength despite a weak global economy and strong U.S. dollar, which will likely translate into higher industrial segment backlog going forward.
Industry Highlights
Commercial/institutional backlog expanded by nearly 4 percent during the second quarter. This is a segment that has been impacted by tightening lending standards for commercial real estate developers. Despite those headwinds, commercial/institutional contractors generally report that backlog remains healthy and stable.
Average backlog in the heavy industrial category fell to 6.6 months during the third quarter, more than offsetting the segment's second quarter gains. Industrial backlog is precisely where it was at the beginning of 2014.
Backlog in the infrastructure category expanded for the first time in 2016 during the third quarter. Despite small setbacks in infrastructure backlog during the first and second quarters, the segment's backlog remains elevated by historic standards. The nation's appetite for stepped-up infrastructure spending appears to have grown, which should translate into rising backlog sometime in the future.
See Charts and Graphs
Company Size Trends
Backlog at the nation's largest contractors — those firms with annual revenues in excess of $100 million — decreased for the first time since the first quarter of 2015. That said, backlog among large firms remains near all-time highs. Firms with revenues between $30 and $50 million continued to lose backlog at a rapid rate, a reflection of weakness in the infrastructure category and a lack of mid-sized publicly-financed construction projects generally.
Highlights by Company Size
Backlog for firms with revenue less than $30 million — the smallest delineation —increased by a quarter of a month during the third quarter. These smaller firms have experienced remarkable stability over the past year.
With the U.S. economy now in its eighth year of recovery, smaller developers have been able to rebuild their balance sheets and are more likely to be able to line up financing. This appears to be generating more opportunities for smaller firms.
Smaller firms also appear to be benefitting from the increasing numbers of property owners addressing deferred maintenance, which often translates into more work for subcontractors.
Firms in the $30-$100 million annual revenue category have lost almost exactly three months of backlog since the beginning of 2016. Still, this group generally averages eight months, and backlog for this group presently stands at 7.8 months.