Proud Sponsor of ABC's Craft Professional of the Year Since 2005!
WASHINGTON, D.C., March 15
– Associated Builders and Contractors (ABC) has named Adam Ruff of Ely, Iowa, field supervisor at
Price Electric
, its 2017 Craft Professional of the Year. Ruff received the honor at ABC's
Careers in Construction awards
ceremony on March 3 during ABC's
Workforce Week '17
conference in Fort Lauderdale, Fla.
"Adam Ruff is a tremendous leader and we are proud to honor his hard work for Price Electric and in his local community," said 2017 ABC National Chair Chuck Goodrich, president of Gaylor Electric, Indianapolis. "Adam's innovative approach to advancing the construction industry, commitment to the safe way being the only way, and to the wellbeing of everyone he comes into contact with in the field, office or shop, is truly impressive."
"Adam is the type of person that everyone wants on their team," said Price Electric President Jeremy Price. "Our employees have been excited and greatly motivated by this entire process. This award shows everyone what can be achieved by making their jobs into a career, and dedicating yourself to it. A win for Adam was a win for all of us. It gives us pride to know we are associated with the award. It builds us up in the community and it helps to bring in future employees."
ABC presents the Craft Professional of the Year award to a construction craft professional who excels in his or her field while also demonstrating a commitment to safety, training and the merit shop philosophy each year. As the 2017 Craft Professional of the Year, Ruff received a brand new 2017 Ram Tradesman Crew Cab truck from the award's exclusive sponsor,
Tradesmen International
, with custom upgrades donated by ABC business partner
Ram Commercial
.
Ruff began his career in construction in 1998 as an electrical apprentice at ABC's Iowa chapter and has worked in both the residential and commercial/industrial side of the electrical craft. He has risen through the ranks from apprentice, to journeyman and foreman into his current role as field supervisor where he ensures employees are safe, well-trained and productive. He has led Price Electric's work on numerous award-winning jobs including their work on the University of Iowa Children's Hospital, which was awarded a best-in-class Eagle Award at ABC's
27th annual Excellence in Construction ® Awards gala
, also held during Workforce Week '17.
Ruff and his family are active in the Cystic Fibrosis Foundation where they help plan the annual
Great Strides for Cystic Fibrosis
.
Ruff was selected from
a field of four finalists
, all of whom received a tool kit from Bosch.
2017 ABC Craft Professional of the Year Adam Ruff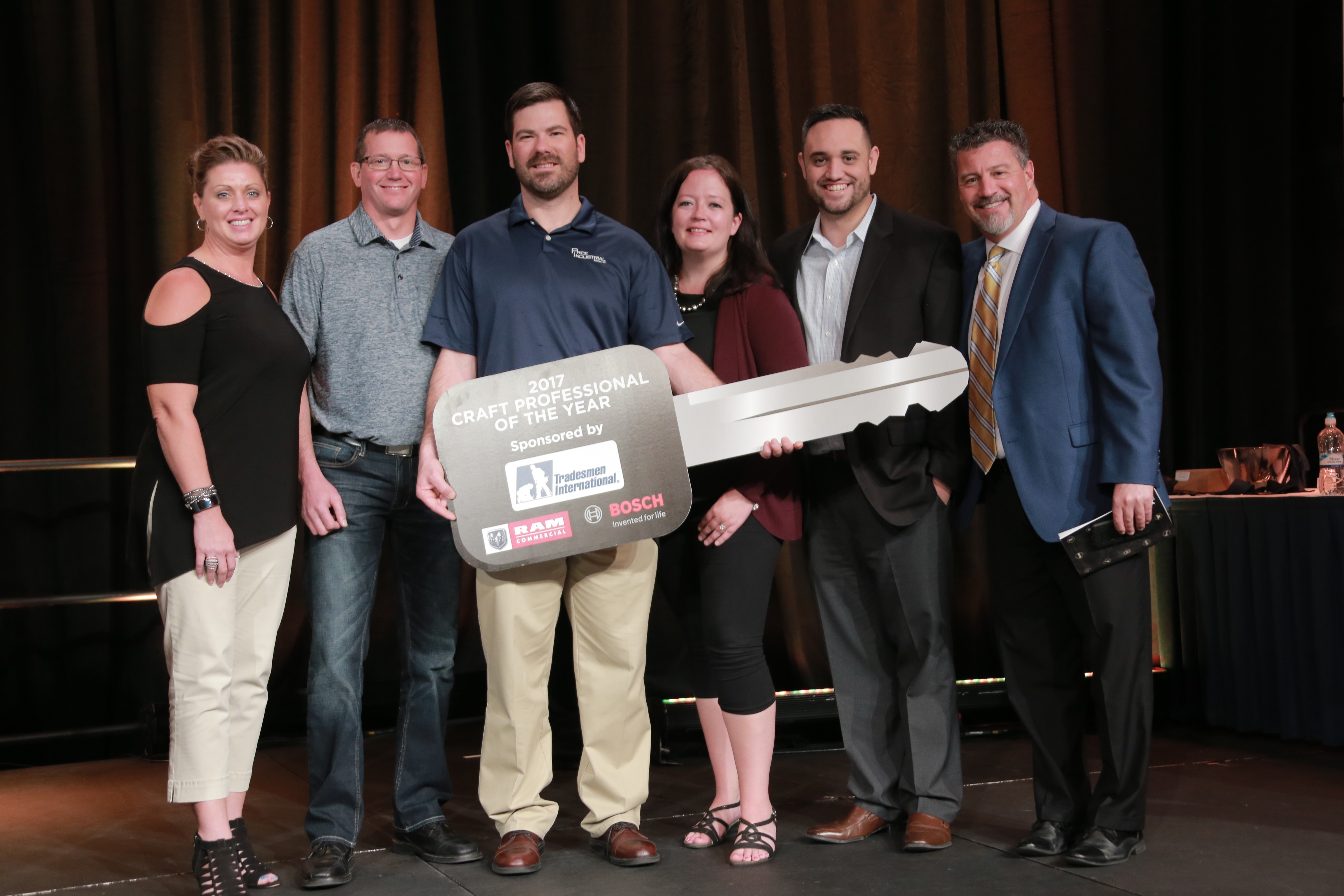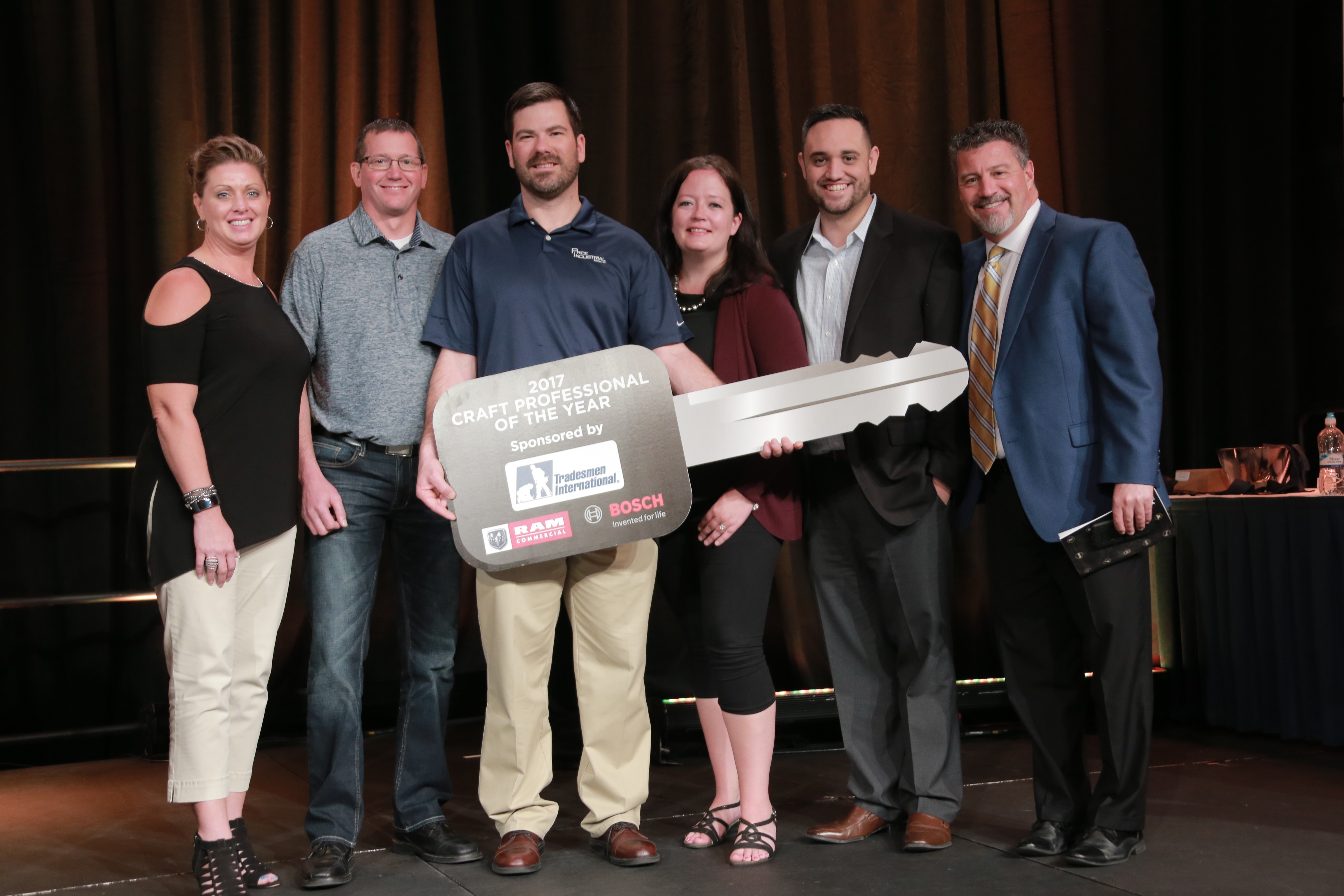 From left to right Kristin Price, office manager of Price Electric, Jeremy Price, president of Price Electric, ABC Craft Professional of the Year Adam Ruff, Adam's wife Sarah Ruff, Kevin MacFarlane, area manager of Tradesmen International and Ed Rojeck, director of marketing of Tradesmen International.
Credit: Jerry Thompson
###