Date:

Thursday, September 14, 2017

Watch Now

Time:

2:00 p.m. (ET) / 1:00 p.m. (CT) / 12:00 p.m. (MT) / 11:00 a.m. (PT)


Length:

60 minutes

Fee:

Free

Speaker:

Dave Anderskow, President and Senior Business Advisor, Palmer Consulting Group
Brad Elson, Senior Business Consultant, Palmer Consulting Group
Presented by
Procore

WEBINAR DESCRIPTION
Organizational Change Management. These are three words that can break your company's future. Innovation is critical to a growing business (or one that just wants to keep their doors open), but implementing change is where many companies hit the wall. If you can't hurdle the six-letter blockade that restrains most companies, yours ideas, you business potential, and your company can't succeed.
Join change superheroes Dave Anderskow, President and Sr. Business Advisor, Palmer Consulting with 22 years of industry experience, and Brad Elson, Sr. Business Advisor with 12+ years of improving culture and business processes, as they walk you through how to:
- Innovate without fear
- Implement technology for success
- Improve company culture to accept change
- Understand Organizational Change Management (OCM) and why it's crucial to business success
RESOURCES
Power Point Presentation
ABOUT THE SPEAKERS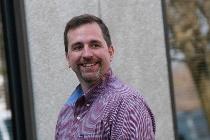 Dave Anderskow brings 22 years of experience and leadership not only to the clients he partners with, but also to the consulting team at Palmer. Dave is an accountant by trade and a skilled entrepreneur and creative visionary by nature. He brings this energy to the work he does with his clients and to the development of his Palmer team. Dave served in a leadership role with an ENR 400 general contractor based in Chicago that served higher education and healthcare markets, serving as a strategist and change agent resulting int he company's growth, implementation of ERP, PM and other technologies, process improvements and implementing strong departments that serve the Project Management teams. Dave is a CPA and earned his B.A. in Accounting from Loyola University of Chicago.
Brad Elson is a change agent and attorney with 12+ years of consulting experience in construction, health and wellness, education, and small business. He has a track record of improving culture and business processes resulting in increased productivity and client satisfaction. Having worked with all levels of the corporate hierarchy from Project Administrator to CEO, Brad can dive deep into issues with strong analytical skills while keeping his eye on the big picture. Prior to joining Palmer, Brad was Director of Special Projects for a Detroit-based General Contractor and Owner/Principal of a boutique management consulting firm. Brad has his J.D. from Arizona State University and his B.A. in Organizational Studies from the University of Michigan.